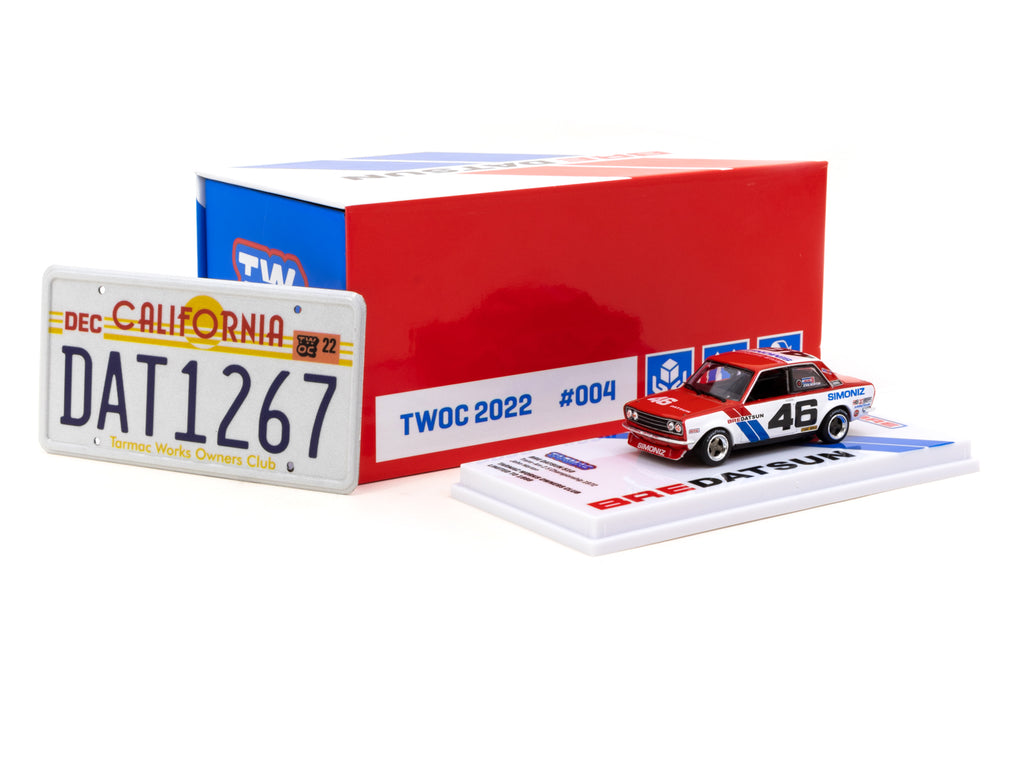 TARMAC WORKS OWNERS CLUB 2022-2023 Membership with 1/64 BRE Datsun 510 Trans-Am 2.5 Championship 1972 #46
---
TARMAC WORKS OWNERS CLUB (TWOC) 2022-2023 membership kit includes:
- Exclusive limited edition TWOC 1/64 model BRE Datsun 510 Trans-Am 2.5 Championship 1972 #46 with only 1,999 units produced
- Individually numbered membership card
MEMBER BENEFITS:
- *NEW FOR 2022-23* We are introducing Tarmac Works Reward Program and members will get 1.5x Tarmac Points for every purchase (WebStore and Event Purchases).  Tarmac Points can then be redeemed to exchange for cash discount or selected items in our WebStore. 
- *NEW FOR 2022-23* 200 Tarmac Points will be given upon registration to the Tarmac Works Reward Program.
- *NEW FOR 2022-23* Complimentary of 50 Tarmac Reward Points for your Birthday
- At least 2 Members-Only-Models to be available in 2023!
- Private sale and special discount campaigns only accessible by members!
- Exclusive 10% discounts on every item in our WebStore.
- Exclusive early-bird purchase in our WebStore for monthly releases and special editions.
- Early-bird entry and private sale session for TWOC members at MiniCar Fest events.
MEMBERSHIP ACTIVATION DATE:
Immediately after successfully placing your order, the membership will be tagged to your login ID
MEMBERSHIP EXPIRATION DATE:
December 3rd, 2023 at 21:59 Hong Kong Time
TERMS & CONDITIONS:
- Limit to 1 membership per person/email per year. Additional purchases will be cancelled and refunded. 
- No cancellations will be accepted after an order has been placed.
- Shipping will start from 12th December 2022
- All rights reserved by Tarmac Works in case of disputes.
FOR MORE INFORMATION:
Please visit https://www.tarmacworks.com/pages/twoc or email us at sales@tarmacworks.com and we will respond to you within 3 business days.
---
Share this Product
---
More from this collection